https://info.bitxbit.com/blog/bitbybit-ranks-high-on-clutch-1000

There are many reasons to thank our customers as we venture into the new year. From your partnerships to your business to your trust in us as your Managed IT Services provider, we appreciate you!
And, today we thank you for helping us earn a coveted spot on the
Clutch 1000 Best B2B Service Providers Global 2019 list,
a customer-driven award presented by Clutch, a B2B market research firm that employs a unique rating methodology to compare businesses across industries.
The most exclusive award offered by Clutch, it highlights companies that have rankings within the top 1% of all the companies within the Clutch platform. We're ranked a solid 664 on the list, but we're one of only nine IT managed services providers, and one out of 51 vendors listed from New York, NY.
How did we do it?
Clutch conducts customer evaluation research, ranking the results on quality of service, cost-effectiveness, and overall compliance with project timelines. Thanks to you, our Clutch profile is given a fantastic 4.9 out of five stars!
Check out a recent review: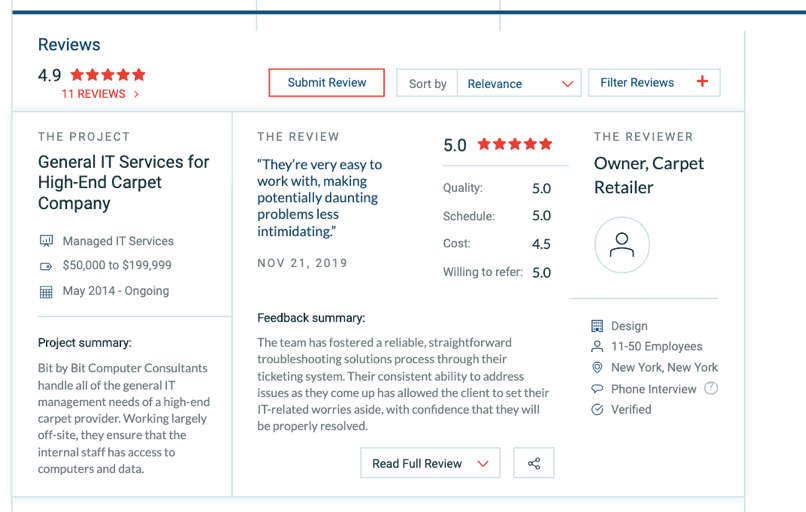 We're also featured as one of the top IT services companies on Clutch's two sister sites:
The Manifest
, a business data platform for interested buyers to
look through companies
and their metrics, and
Visual Objects
, a site to
search for business partners
through their visual portfolios.
So, thanks for the high rating. We look forward to providing solutions to you as your technology needs to change and grow in the future.
If you're new to us, then we're here for when you're ready to partner with us to streamline and improve your managed IT services with our award-winning service and cutting-edge solutions.
Bit by bit helps client networks run smooth and secure.. visit our website at
www.bitxbit.com/texas
877.860.5831